Our history
The Manduchi's Corner is an historic clothing store in the city of Rimini, Italy, one of the few that has kept its name unchanged over the years.
For this reason, when we bought the activity in 2000, we've decided to keep this name, which has always been one of the major clothing points of the city.
In our store, we first started dealing a total look apparel in regular sizes, and intimate for man and woman. We have done a lot of experiences with well-known brands such as Levi's, Missoni, Cerruti, Biagiotti Cotton Bealt and the various ready-made brands.
We have learned to know perfectly the fabrics and to sell both sport-ware, casual and elegant clothing. When we decided to dedicate ourselves to the strong sizes we have carried this knowhow to those who need to wear comfortable clothing.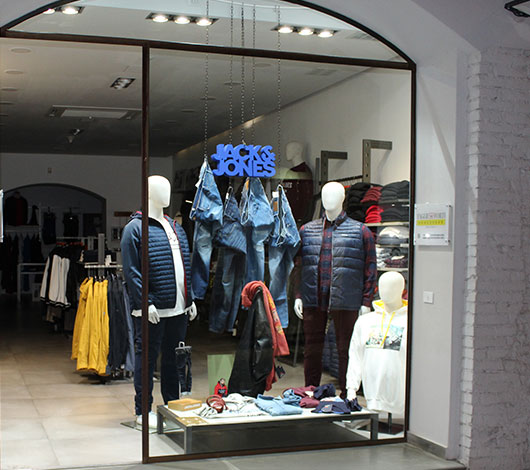 The choose of strong size clothes
But how did the big-size challenge start? The idea of opening an oversized store was born in 1992 from a trip to the United States by visiting one of New York's largest and famous stores.
We were literally fascinated to see an unknown reality of 600 squared meters, of which 100 dedicated to the buffet!
So after twenty years of experience in the field, on returning from that trip, we got into the game from regular sizes to comfortable sizes.
In 2007, our online adventure began.
The site had the same name as the store, but then we decided to create a more specific brand.
So we called our Brand Strong Size Men 10XL, a simple name that let's understand that we are dedicated exclusively to extralarge clothing.
Today we sell only strong sizes, both in our shop Rimini shop and online with the same passion.
The two realities, both the shop and the site, are often intertwined and we've met some people who buy online and visited us during their visit in Rimini. This, in addition to "giving a face" to whom we only heard by phone or mail, fills us with pride and give us new energies to continue in our work.
Cosa dite di noi
Non scriveremo che siamo migliori rispetto agli altri nostri colleghi e nemmeno pretendiamo di esserlo. Quello a cui teniamo particolarmente però è che i nostri clienti siano soddisfatti di noi e del nostro servizio.
In questi anni di lavoro online abbiamo dedicato un'attenzione speciale alla cura di chi decide di acquistare sul nostro sito, ascoltandone suggerimenti e critiche, che ci hanno aiutato a migliorare.
Il risultato di questi sforzi è che i nostri servizi hanno ricevuto nell'ultimo anno il 98% di feedback positivi.
Ecco alcuni esempi di clienti soddisfatti:
Our 10 fixed points
1 - Support service
In these many years, we have realized that to satisfy the needs of our customers it is essential to provide the right support.
That's why we have a service that will support you at every stage of your purchase, from choosing the correct size - thanks to our Size Guide - until the shipment.
2 - Site navigation
We are very proud of our site because we spent so much time optimizing it to facilitate the user experience.
In every product detail you will find all the available sizes and colors and each of them is equipped with a simple and intuitive size chart to help you don't make mistakes.
3 - Ease purchase
On our site you can choose the preferred purchase option between credit card, prepaid card, Paypal, Postepay recharge or bank transfer. For more details, you can consult our FAQs section.
One of our best customers is an 85 year old lazy lady, who has no difficulty in purchasing procedures.
4 - All sizes available
We have the right size for everyone: from 2XL to 10XL. If you do not find the size that interests you, there's no problem: you can contact us and we will do our best to help you meet your needs and choose well.
5 - Fast and fast delivery
Shipment is one of our strengths. Our online sales experience allows us to know which courier will arrive at your home as little as possible. We prepare orders in a short time and this ensures you to receive your order very fast.
6 - The best strong size's companies
Maxfort, Kitaro, Re del Mare are just few of the best hardwearing clothing companies we work with.
Our friendly relationships with these companies are well-established and we personally know our interlocutors. This allows us to offer a wide selection of samples and always updated with the latest trends.
7 - We are always at your disposal
The relationship with our customers is special for us: for this reason we try to offer you continuous assistance, as far as possible.
We provide you with customized advice, trying to interpret your tastes and needs (sometimes we know our customers directly).
8 - News, curiosity and information
In addition to our personal and direct advice, we have prepared for you a section of the site with news and curiosity to help you get better about online clothing.
In addition to the helpful Size Guide, in the Curiosity section we have written interesting editorials on a variety of topics: fabric allergies, how to clear your clothes, and how to wear some garments at best.
9 - Messaging via Whatsapp
At our usual telephone and email support through our contact form, we've added the most used messaging system to provide you with complete support.
In this way, we can stay in touch and contact you immediately in case of problem and quickly resolve them. Or if you want, just for greeting.
10 - Offers and promotions
If you choose to stay in touch with us by subscribing to our newsletter, you will receive our product offers. Many of our promotions are sent exclusively at members of our community, so it is very important to subscribe.
And you can stay safe: we will never send spam and we will not share your email with third parties because we are committed to the correctness of our visitors and customers.